LOCATED IN THE HEART OF DOWNTOWN FENTON, MICHIGAN WELCOME TO 202 W Shiawassee, Cafe of LIFE Chirorpactic at the Peabody

Center for Well-Being !!!!

 
Café of LIFE Chiropractic  is a place that thinks radically different about health. It is a welcoming atmosphere where we focus on people, life and living. Your health, life and human potential are honored at all times.
Café of LIFE Chiropractic is a place that will help shift your awareness towards a more vitalistic and holistic way of living. The Café will empower you to take responsibility for your own health. We realize that more and more people are interested in understanding how to take care of themselves and their families, and get more out of their days. At the Café, we serve these needs with ongoing education and information. Our intention is to lead people to their highest possibility.
At the Café of LIFE, you will be cared for as a unique individual and special human being; you will never be treated like a case with a condition, ID number or file. People here receive hope and inspiration instead of prognosis and prescription. We use our heads, hearts and hands to release the essence of life (human electricity, chi, prana, life force, light, mental impulse). This is made possible through a precise chiropractic adjustment.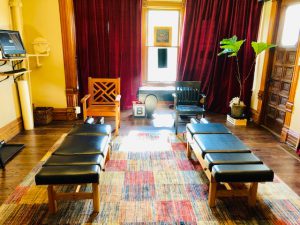 Everyone is invited to enjoy the experience served at the Café of LIFE. People who come to the Café may be seeking a greater life expression, a more active life, or improved overall health. Whether you feel good, are in pain, ill or affected by a disease, you are welcome. We serve all ages and walks of life…from newborns to their great-grandparents; people who are healthy and those who strive for health.
Café of LIFE Chiropractic is located in the heart of Fenton, MI. At the Café you will experience a different way of thinking about life, healing and wellness. This is a place where care is provided through an understanding and respect for the power that creates life and we look forward to meeting you!!!