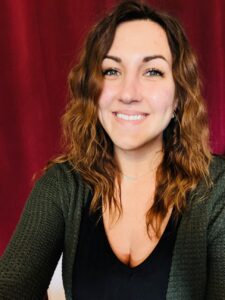 McKayla Cebula – Chiropractic Assistant Extraordinaire
"Memories exist outside of time and have no beginning or end."
McKayla joined the Café of LIFE Chiropractic team in 2021.  She is the friendly voice you hear on the phone and the first smiling face you see when you walk into our office.  She comes to us with lots of business experience and she is truly a "people person".  McKayla was born in Traverse City, MI, and raised in Manistee and is really close to her sister, Alexys.   One thing she really loves about being at the Cafe of LIFE is "getting to know the incredible patients and families and being able to help the community."  When she is not at the office, she enjoys being out in nature, playing games with friends, making memories, reading, writing poetry and collecting rocks and crystals.  She also loves being with her dog, Pearl.
You may reach McKayla directly over email at hello@cafeoflifefenton.com.
Emilie Reyes – Licensed Massage Therapist
"Spread love wherever you go."  -Mother Theresa  
Emilie is a Licensed Massage Therapist and joined the Café of LIFE Chiropractic team early 2022.  She was born in Flint, Michigan and raised in Grand Blanc, graduated from Grand Blanc High School.  She did her massage therapy training at Irene's Myomassology Institute and is excited to be working with people in this setting.   Her favorite part about being at Café of LIFE Chiropractic is the overall environment and atmosphere.  "This place just has a calm and warm feeling."  She currently lives in Grand Blanc with her son, Bennett, and their dog, Stella.  In her free time, she enjoys traveling, hiking, baking and loves to golf.  Emily is currently available Mondays 10a-1p, Wednesdays 3p-6p and Thursdays 10a-5p.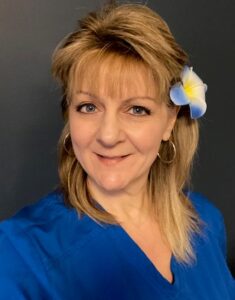 Tina Jackson – Licensed Massage Therapist
"Run the race set before us with endurance: not looking to the left or the right; keeping our eye on the high prize of the calling." 
Tina  joined the Café of LIFE Chiropractic team as a Licensed Massage Therapist  in in 2021.  She is a graduate of the Flint School of Therapeutic Massage.  She also studied at Charis Bible College and Wayne State University.  She was born and raised in Warren, Michigan then moved to Grand Blanc and then to Fenton with her husband, Jerry, and her two beautiful daughters.  Tina specializes in Full Body Swedish Massage allowing for the muscles to relax and be worked easier with less discomfort following the session.   Her favorite part about working at the Café of LIFE is "Being part of a relaxing, peaceful and healing atmosphere that is conducive to physical, spiritual and emotional healing."  In her spare time, Tina produces and hosts a Christian based talk show, U Beautiful Creation, loves quilting and is currently working on her third book to be published some day.  Tina is currently available Mondays 3p-6p, Wednesdays 9-11:30 and Thursdays 10a-1p.