Dr. Erica Peabody was born and raised here in Fenton, MI with three brothers whom all currently reside in the area with their families.  Her very large extended family has been Fenton area residents for well over half a century.
Following graduation from Fenton High
School, Dr. Peabody started her college career at Michigan State University and during her first year, decided to pursue her Doctor of Chiropractic degree.
She worked towards a Bachelor of Science in Natural Science at Michigan State University, Boise State University, and graduated, with Cum Laude honors in 2001, from University of Alaska Anchorage where she lived for over three years.
Dr. Peabody began Chiropractic College at Life University in Atlanta, Georgia and graduated, with Magna Cum Laude honors, from Sherman College of Chiropractic in Spartanburg, South Carolina in 2004. After ten years of schooling, she returned home in December of 2004 and opened her practice, Café of LIFE Chiropractic, three months later on March 12, 2005.
Over and above her Doctor of Chiropractic coursework, Dr. Peabody has completed numerous courses to offer the very best care for prenatal/postpartum patients, as well as, infants and children.  Cafe of LIFE Chiropractic has become the "go-to" spot for family chiropractic care through the years.  She is certified in Webster Technique and is highly sought after by midwives, doulas and other birth practitioners in the area to co-manage care for expecting mothers.  She is an active member of the International Chiropractic Pediatric Association.  She is also a proud and active member in the Michigan Association of Chiropractors and the International Chiropractic Association.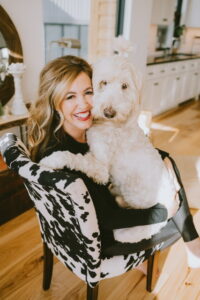 Dr. Peabody has been in the fitness industry for decades and has completed 200 hour yoga teacher training.  She is currently pursuing an additional 300 hour certification and has been a presenter at local yoga studios and festivals over the past few years.
When she is not helping people at the Cafe of LIFE, she is usually spending time on adventures with her Bernedoodle, Louis, who is the therapy dog you will meet at the office.  She can often be found at the local gym, yoga studio, surfing, running, reading, writing (blogging), biking or spending time with her family. She is an avid snowboarder and spends the winter weekends on the slopes as much as possible. Aside from being a chiropractor, one of her most favorite roles in life is being "Aunt E" to her handful of nieces and nephews whom all reside in the Fenton area.
If you have questions you would like to ask before beginning care at the Café of LIFE Chiropractic, Dr. Peabody can easily be reached by phone (810)629-6023 or by email at erica@cafeoflifefenton.com.